Gadgets to Neutralize The
Evil Effects Of Radiation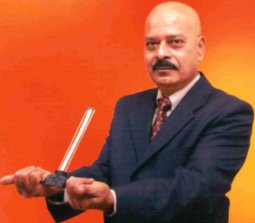 ---
About The Author
Dr. M. Sathiamurthi attained his knowledge in Energy Sciences and Radiation as early as 1968.
He learnt the uses of the Lecher Antenna from his professors from Germany while in the IIT Madras.
He is a qualified Bio Energetician from the Inter National Academy of Bioenergetics from France.
---
Learns Bioenergetics
He holds Graduate Degrees in Chemistry and in Chemical Engineering from the IIT Madras. He acquired this knowledge of Bio Energetics in France, under Dr. Rene Nacachian, Founder of M/s SBJ International.
---
Cell Phones and Computer vibration Robs Your Life
---
Practices Bioenergetics
Not satisfied with his Academic qualifications, Dr. M. Sathiamurthi specialized on the applications of Lecher Antenna. With it he studied the good and evil vibes affecting us by electromagnetic energy fields.
He practices Bioenergetics, in India since 2003. He has cured many patients suffering from chronic diseases. His ability to identify the radiating body vibes, and neutralize them, made these cures possible.
---
Cell Phone Causes Brain Confusion
---
Cell Phone Diseases
In his practice, he found out that many diseases were caused by cell phones and computer monitor vibrations. Regular use of these modern instruments led to brain damage, impotence, and diseases like cancer.
At this juncture, it became necessary to neutralize the evil effects of radiating electromagnetic vibes, by applying Bioenergetics. It enables a bioenergetician to design products to counter these vibrations.
---
Neutralizing Gadgets
Dr. M. Sathiamurthi has developed gadgets to neutralize the evil vibes from cell phones, computer monitors, and other communication devices. These help you to escape from the dangers of their harmful vibrations.
---
The Remedy
Bioenergetics has come out to help you with various solutions to offset these harmful effects of radiation. It diagnoses you and identifies the evil vibes. It also offers effective solutions to counter their evil effects.
---
The Counter Wave
You constantly lose your health by exposure to computers, cell phones, and other gadgets. For this, we have developed effective remedies which are Counter Waves to offset the effects of these evil vibrations.
Once you wear it for a few weeks, it cancels the radiation that triggers reactions in your brain. And you are no longer affected. Thereafter you can use your computer or cell phone with out fear of losing your health.
---
Contact Us For The Counter Wave
---
Neutralizing Cell Phone Vibes To Radiation Home Page
---